"Your life is your canvas, and you are the masterpiece.
There are a million ways to be kind, amazing, fabulous, creative, bold, and interesting."
― Kerli Kõiv (Estonian Singer)
​
In today's email
Knitspiration:

Creating texture with an Estonian nupp

Stitchionary:

A stitch that's as cute as a button

Pattern Pick:

This lace shawl is covered in nupps

PLUS:

Estonian weather, a 100,000 voice choir, and more
​
Disclaimer: This newsletter may contain sponsored ads and affiliate links.
When you buy using them, you support our work here at The Yarnist, as we get a small commission.
​
💡 Knitspiration
🇪🇪 What is an Estonian nupp?
For those who don't know, I've been living in Estonia for more than 5 years now.
If you're interested in how I ended up here I explain that in our first episode of the Yarn Talk podcast.
But I first heard about Estonia way back when I started knitting in 2010.
I was visiting a yarn store in New Hampshire and one of the employees mentioned this thing called a *nupp* stitch.
They said it was a difficult and annoying stitch that there weren't any good videos demonstrating.
When I looked it up and discovered it was from Estonia...it went entirely over my head.
My European geography was pretty terrible so I just knew it was a small country in Europe.
Little did I know in less than a decade I would be calling this place home.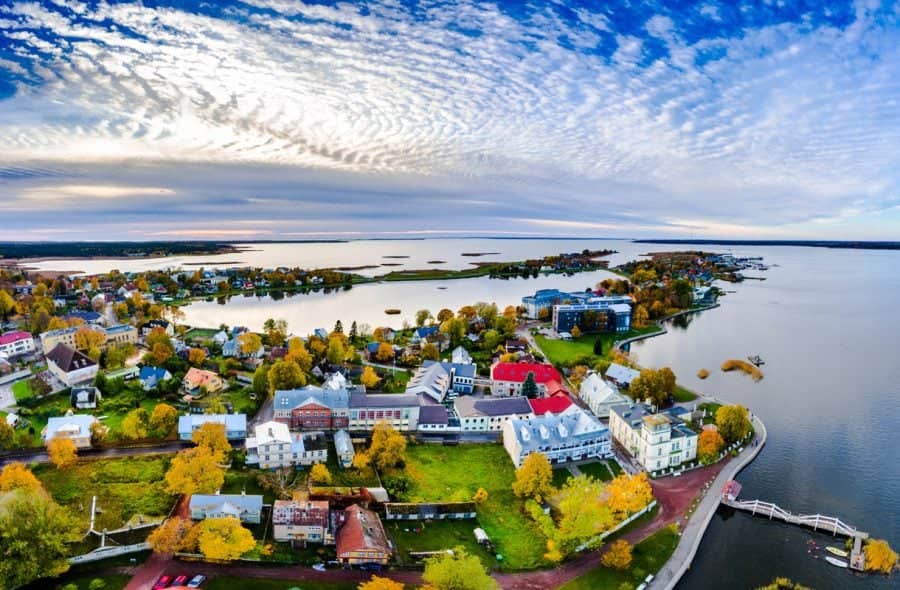 Estonian Lace Knitting
There's a sleepy little town on the west coast of Estonia called Haapsalu.
It feels a lot like New England, but with a bit of Victorian era architecture.
For years it was a vacation spot for wealthy Russians, including the famed composer Tchaikovsky (The Nutcracker and Swan Lake).
Like most tourists they wanted to take home souvenirs, and the traditional lace shawls knit by local women were the perfect item.
Supposedly, these shawls were priced by weight, and as the delicate lace did not weigh much the Estonians got crafty.
Enter the nupp.
This little bobble stitch did not take up much space, but added weight to the shawls, thus increasing their selling price.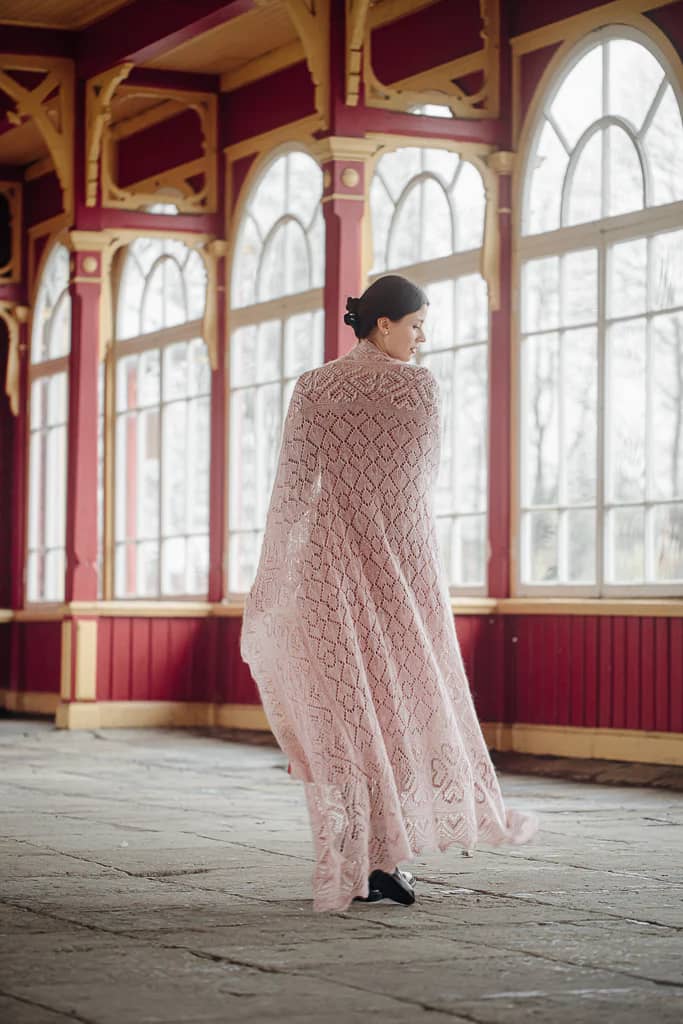 Other folks claim that the nupp was a way to verify handmade knits.
Because it was not a stitch which could be produced by a machine the knitter could prove their shawls were handmade by including nupps.
What is a nupp?
The Estonian word nupp translated directly means "button" although it can also reference the bud of a flower.
It's a form of bobble, a textured stitch which is worked by increasing many times into a "mother stitch" before being decreased back into one stitch on the wrong side.
The nupp is always made with an odd number of stitches, usually 5, 7, or 9.
More stitches produce a puffier stitch, but they still remain delicate when knit with lace weight yarn.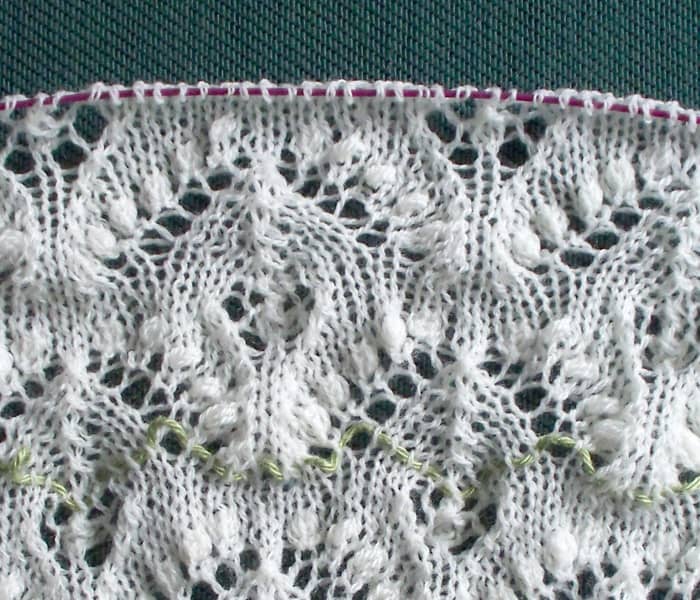 Why are nupps hard to knit?
These unassuming little stitches can be a big pain in the tookus.
Their construction consists of alternating yarn overs and knit into ONE stitch.
That part is easy.
The problem arises when trying to purl all of those additional stitches together.
It can be quite difficult get your working yarn through all those additional strands.
Often you'll find that those additional stitches are just too tight to work with all at once.
Nupp knitting tips
If you want to try nupp knitting yourself here are two tips I highly recommend.
Knit loose​
More loosely than you might think. You want plenty of room to be able to maneuver your needles in those stitches when purling them together. The more stitches there are, the harder it will be to work.
​
Use a crochet hook​
There are a few different ways to work a nupp (we'll cover one below), but your life will be a lot easier if you just use a crochet hook to pull your working yarn through all those loops. Trust me.
Go Further
If you want to learn all the different ways to knit a nupp, along with a few other advanced knitting stitches, join us for our Advanced Knitting Stitch Workshop.
You can register below!
​
So what do you think?
Are you interested in trying to knit a nupp now?
Have you tried knitting nupps before?
Hit reply and share!
---
Like this article? Share it with a friend!
​
📣 Upcoming Events
LIVE Workshop: Advanced Knitting Stitches
Saturday, August 26th @ 10AM Pacific | 1PM Eastern
During this 60 minute live workshop you'll learn everything you need to know to knit the four types of advanced knitting stitches.
We'll practice together in real time as you discover new techniques you may have never tried before.
Your are already registered for this workshop
📆 Daily Stitch
The Estonian Nupp Stitch
While nupps can be a little hard to knit, Aleks Byrd, an Estonian designer, has a great tutorial walking you through the ins and outs.
You'll be so happy you watched her tutorial you'll want to start singing.
🧶 Pattern Pick
Estonian Square Shawl by Kerin Dimeler-Laurence
A classic example of Estonian lace, this gorgeous square shawl can be worn so many ways.
Its interesting lace pattern is easily remembered, while the border is picked up at the end and knit in the round.
The beautiful result will see you through many seasons.
😂 Knits & Giggles
---
Thanks for reading!
Before you go...below you'll find a few ways we can work together, and other bits & bobs:
Love our work? Here's a few ways you can support The Yarnist:
Buy us a coffee (Now accepting PayPal!)​
Each of our emails is the culmination of many hours of research and lots of cups of coffee. If you want a simple way to show your appreciation you can buy us a coffee here.
​
Take a Yarnist Academy class
​There are more than 40 classes to explore with topics like 2-Color Brioche, Mosaic colorwork, Entrelac. New classes are added every month! Explore our classes​
​
Grab one of our knitting patterns
​We have dozens of projects from cabled hats to lace shawls and even sweaters. Check out our patterns​
Yarnist Society Member Status: You're not a member! 😱
​Get access to 40+ knitting classes and more for just $1 per week!